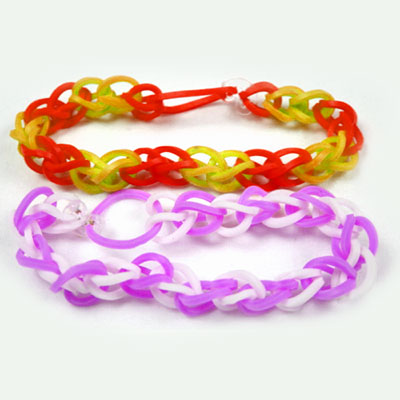 The Rainbow Loom is basically a grid of three rows of plastic pins.  You can use the Rainbow Loom to make a wide variety of jewelry, like bracelets, rings, necklaces and earrings, as well as lots of other fun things, like Christmas ornaments, purses, phone and MP3 player cases and more.
By looping elastic bands of assorted colors over the pins and the looping them over and under each other, you can create all these and more by using Rainbow Loom Patterns provided on this site and other places.  All the patterns we provide on the site will include video walkthroughs, text instructions and even photos of the final product.
If you're a beginner to the Rainbow Loom, be sure and start with he Single Pattern.  This is the easiest and will allow you to quickly get the feel for the loom, how the place the bands and how to follow our instructions.  Plus you'll end up with a cool bracelet in no time.